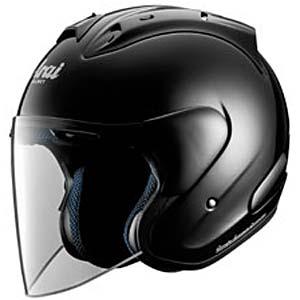 This helmet offers probably the most protection of any helmet that is not a full face helmet. some of the features include:
PENETRATION RESISTANT
The penetration test of falling the 3kg cone test striker through a height of 300cm is conducted, although it is not required by European helmet standards.
FIBRE GLASS
Fibreglass shells are strong and lightweight ensuring excellent wearer comfort.
HYBRID MULTIPLE-DENSITY FOAM EPS LINER
Arai's unique technology of giving multiple different densities to the liner as a single component instead of assembling several different density liners to make the final part.
ERGONOMICALLY SHAPED SHELL
Enables a more enveloping fit toward the bottom opening allowing improved streamlining and a smarter appearance at the same time.
HYPER RIDGE
Reinforcement at the bottom of the outer shell for more strength, including the area around the rear exhaust vents.
DIFFUSER
Diffusers and ventilation ducts are integrated into the outer shell for a smooth helmet surface.
SZ VISOR
Aerodynamically shaped, optically correct pre-formed visors for better vision and UV ray protection, with less distortion.
LRS
Lever Release System. Visor change in seconds without tools.